Welcome to the Europigeons Directory.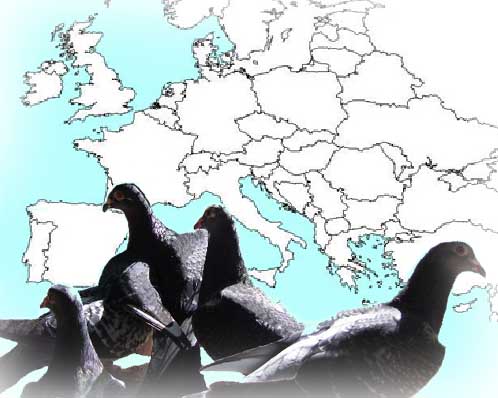 Through this directory it is hoped to provide something of the history and development of long distance racing pigeons in Western Europe since World War 2. Some of the reasons for that start point can be found in World War 2 and Long Distance Racing Pigeons. The choice of the Default Individual arises from the fact that he is a successful modern day pigeon and his lineage can be traced back to those very times.
This directory is not and never could be comprehensive but hopefully it will grow overtime. The data it contains comes from many and various sources but particular thanks must go to the monumental works of Machiel Buijk "Het ras van der Wegen" and in conjunction with Sjra Hendriks "Jan Aarden – en de geschiedenis van de Nederlandse fonduif" which stand as the reference works to these areas, the various writings and contributions of a man who stood out as both a guiding and creative influence throughout this entire period Piet de Weerd and finally my thanks to Henk de Brueijs for his contributions, guidance and assistance.
How to use.
You do not have to Log In or have a User Account to search and use the Directory.
This database has been adapted from a human genealogy programme and still contains references to humans rather than pigeons, hopefully these will be corrected overtime but until then please ignore them if you can. While every effort is made to ensure accuracy mistakes still occur so if you see anything that you think is or may be wrong do not hesitate to bring it too attention so that it can be corrected. Equally if you have any information or data that will add to the directory please get in contact so that it can be added.
If you look to the top left corner of the screen beneath Europigeons Directory you will see a row of 7 symbols if you click on the second from the right, the Magnifying Glass, it will provide you with a choice of three searches. If you Click on General Search this will offer you probably the best and easiest way to search the database. The Individuals box should already be ticked and this is probably the best way to search at this stage. The search will only return what you search for but it will return all that you search for so it is best initially to keep your search terms short. For instance if you want to search for Robert Ben and you type in Rupert Ben it will find nothing but if you just type Ben it will find all references to Ben. Once you make the search you will be provided with a list of relevant entries. When you find a pigeon in the list that you are interested in Click on it and you will be taken to its page. Here you will see what information, if any, is available. Usually this will be found in the Facts and Events column in pdf format and by Clicking on the pdf symbol all, we hope, will be revealed. On the Individual Pigeons page from the 7 symbols in the top left corner you can access things like Charts displaying Ancestors etc. from the second on the left, Reports of Ancestors etc. which you can download in pdf format from the third from the right.
Articles.
Where possible links are provided to articles that may have some interest or relevance and which may be located on other web sites. As only one pigeon can be linked to an article when the article itself may relate to several a separate Index is provided at the far right hand symbol in the top left corner of the screen beneath Europigeons Directory. Clicking on that symbol will take you to the Index; Click on the Individual pigeon to go to that pigeon's page where you can Click on the article to read.
If you have any problems or difficulties please make get in touch, contact address at bottom of this page, and I will help if I can. Search around and enjoy.
Over years the format of ring numbers has changed and frequently numbers are referred to in different formats. In order to maintain some consistency within this database, where possible, the following national ring formats will be used and any known variations will be quoted within the Notes. When the ring number is unknown and in order to retain the integrity of the database a number will be allocated commencing with the letters UKR standing for unknown ring.
NL01-12345, BELG01-12345, F01-12345, GB01X12345
Statistics —

Europigeons Directory
This family tree was last updated on 5 October 2014.
Individual who lived the longest
Average age at death
0
Males: 0 Females: 0
Family with the most children
6
Average number of children per family
1.15
No news articles have been submitted.
| | | |
| --- | --- | --- |
| | Changes in the last 7 days | |
There have been no changes within the last 7 days.